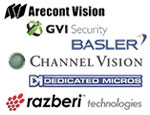 IP Video Module
The IP Video module in eKeypad provides the ability to view and control IP cameras, IP encoders, DVRs and NVRs. The module allows you to configure an unlimited number of devices.
Given the large number of video manufacturers and models eKeypad only lists support for devices where we have directly tested or verify with the help of end-users. We also place products into two categories: "Tier 1″ and "Basic"
Download Full List of Supported IP Video Devices on the downloads page here.
Tier 1 supported video devices represent the best supported video products in eKeypad.
You can expect several benefits:
– Enhanced support capabilities
– Individual testing prior to each release
– Support for all shipping products
– Support for all legacy products possible
We build close relationships with the companies in this group and stock our testing lab with demo equipment to ensure that we can perform thorough testing against these products prior to releasing each update.