Products reach the end of their Product Life Cycle for a number of reasons. These reasons may be due to market demands, technology innovation, and development driving changes in the application, or the application simply matures over time and is replaced by functionally richer technology.
While this is an established part of the overall product life cycle for all software applications, eKeypad recognizes that end-of-life milestones often prompt a review of how the eKeypad applications already in use are affected.
With that in mind, it is our goal to make this process as transparent as possible to our customers and partners. This will allow you adequate time to plan for upgrades and migrations if necessary. The rest of this document details eKeypad's End Of Life policy and the key milestones that occur during this process.
The following diagram provides an overview of how application updates, technical support, and application licenses will change during the End of Life phase of eKeypad applications.
---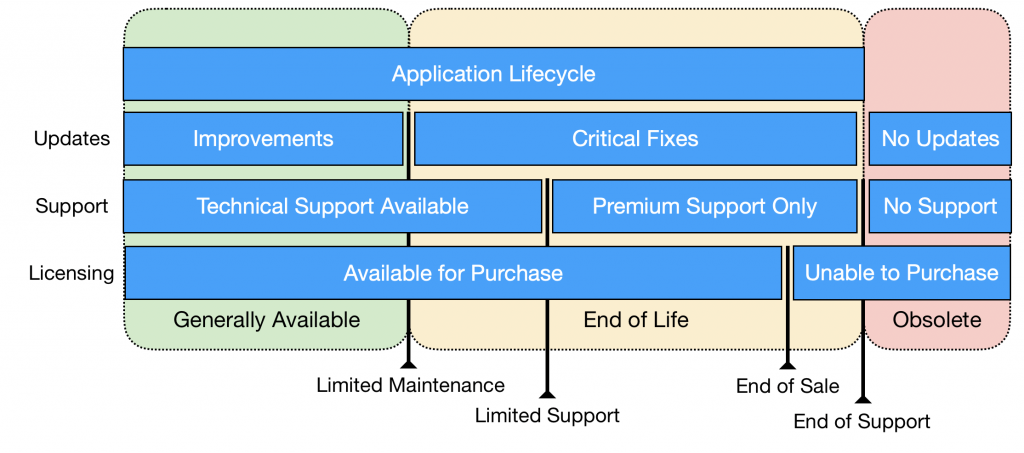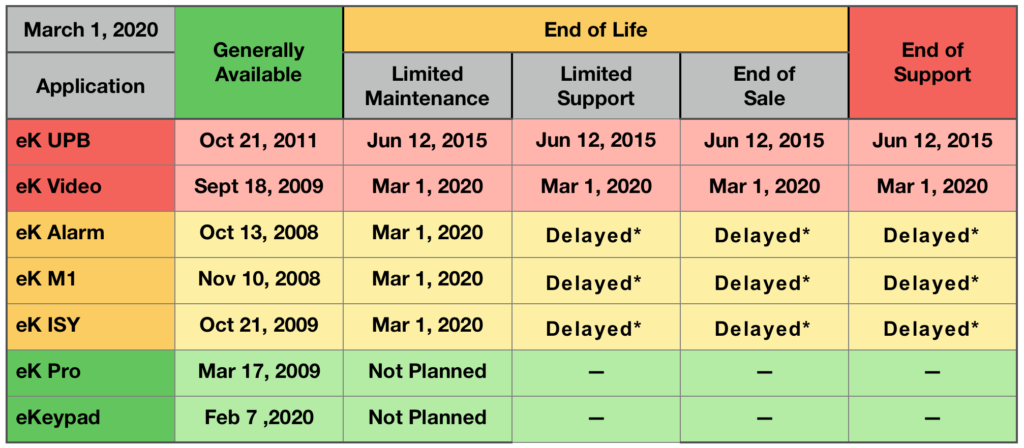 * Due to the impacts of COVID-19 on everyone the End of Life scheduled for our legacy applications has been paused. When the roadmap schedule resumes you can expect at least 1 year of added support time before the End of Life roadmap ends.

---
Definitions
Applications spend most of their lifecycle in this phase. During this phase, the application is actively maintained with routine maintenance updates and feature enhancements. Complementary technical support is provided via email and phone is throughout this phase.
The End of Life phase of the application lifecycle is where an application is retired. This phase indicates the application is at the end of its useful life and efforts to market, sell and improve it has come to an end. Existing installations are not immediately affected but the application is nearing obsolete status and should no longer be used. This application lifecycle phase involves several important milestones concerning the frequency of updates, the transition from complementary to paid support, and the end of purchasable licenses.
Customers are encouraged to migrate to a Generally Available application when possible. Discounted update bundles are available to assist migrations.
The Obsolete phase falls outside of the application lifecycle past the retirement date. Existing installations will continue to work, but new licenses are not available for purchase, no support is available and no updates will be made.
The Limited Maintenance milestone date marks the start of the End of Life phase. Starting at this milestone functionality enhancements will no longer be released for the application. During this period, eKeypad will provide support through workarounds. If no workaround is available, eKeypad at its sole discretion may release a critical fix.
The Limited Support milestone date marks the point at which complimentary technical support is no longer available for an application. Paid support options may be available after this date. Contact us for more details.
This is the milestone date that an application license will no longer be available for new purchases. Purchases made prior to this date will continue to be valid and can be re-downloaded and used on compatible devices.
The End of Support milestone marks the date when technical support for an application will no longer be available. The application will continue to work but technical support will not be provided. Migrating to a Generally Available application before the End of Support date has passed is strongly advised.
---
---
Frequently Asked Questions
Why is there an End of Life policy?
eKeypad Mobile Solutions established a general End of Life policy in order to better communicate to our customer's details about the availability and support for our applications.
Why are applications available for purchase after entering End of Life?
Our goal is to provide customers with a smooth migration period for applications entering End of Life. Our agreement with Apple for the sale and distribution of our applications also influences the milestone sequence during the End of Life phase.
Can I use my application during End of Life and Obsolete phases?
Yes. These phases do not affect the ability or right to use an application. They only define the changes that occur with respect to technical support, application updates, and the ability to purchase new licenses.
How can I learn more about Premium Support?
If you require technical support during the Limited Support phase please contact eKeypad support for more information.
Can I get support after the End of Support date?
In the absence of a custom agreement between you and eKeypad Mobile Solutions that stipulates otherwise, all technical support stops at the End of Support date.
What qualifies as a critical fix?
During End of Life phase eKeypad may, at its sole discretion, choose to release an update for what it considers a critical issue. For issues eKeypad considers non-critical, consulting services may be available; contact support for more information.